7" Cleaver Knives | Samurai Series
---
Extra 20% off on Everything
Features
Overall Length:12.0″
Blade Length: 7.0″
Blade Handle: 5.0"
Blade Hardness: 56-58

Weight

: 0.68lb (0.31kg)
Full-Tang Blade

High-Carbon Stainless Steel

Ergonomic and well-balanced ergonomically designed blade
The ergonomic wooden handles, accentuated by graceful mosaic pins, provide a relaxed grip that perfectly balances the weight of the blade.
Chop and slice with ease, knowing the durable wood and balanced heft are designed to minimize hand fatigue, even during marathon meal prep.
Care and Sharpening

Handwash gently: Avoid the dishwasher's harsh environment and wash by hand with warm water and mild soap. Rinse and dry thoroughly.
Coat against corrosion: Apply a thin layer of food-grade mineral oil to the blade to prevent discoloration. Buff away excess.
Sharpen skillfully: 

Hone the blade edge regularly with

 a knife sharpener . Patience and practice lead to the ultimate edge.
Store with care: Keep in a knife guard or sheathed in a drawer. Never toss in a utensil pile.
Respect the cutting edge: Chop mindfully on a sturdy board. Avoid hard surfaces that may chip or crack the blade.
what are cleaver knives used for?
Chopping meat: Cleavers have thick, heavy blades that make them ideal for chopping through thick cuts of meat and separating meat from bones. The weight of the blade also makes it easy to chop through small bones.
Chopping vegetables: The wide blade of a cleaver can also be handy for quickly chopping vegetables like carrots, potatoes, squash, etc. The flat profile allows you to use a rocking chopping motion.
Crushing garlic and spices: The broad side of a cleaver's blade can be used like a pestle to crush garlic cloves, fresh ginger, spices, etc.
Tenderizing meat: Tapping a cleaver's spine against meat can help tenderize it by breaking down the muscle fibers. This helps make meat more tender and easier to chew.
Chopping nuts: Cleavers can chop through hard foods like nuts, chocolate, etc., which might damage the edge of a regular chef's knife.
Scooping and transferring food: The wide blade can also be used to scoop up chopped food and transfer it to pots and pans.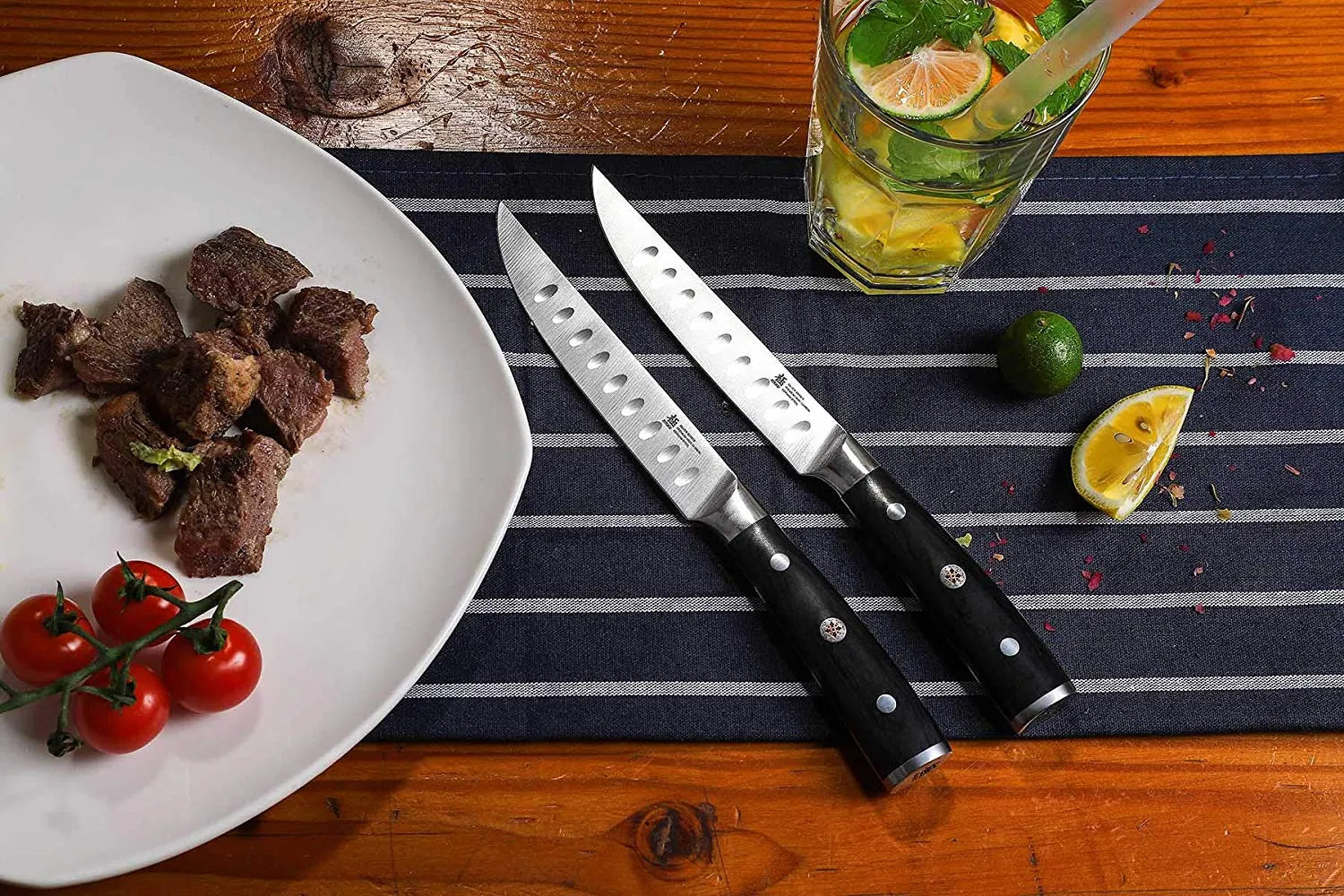 HIGH-PERFORMANCE
PREMIUM STEEL
Manufactured with high-carbon steel, this 7 in. Japanese cleaver knife boasts unrivaled performance and incredible edge retention.
MORE WITH KYOKU KNIVES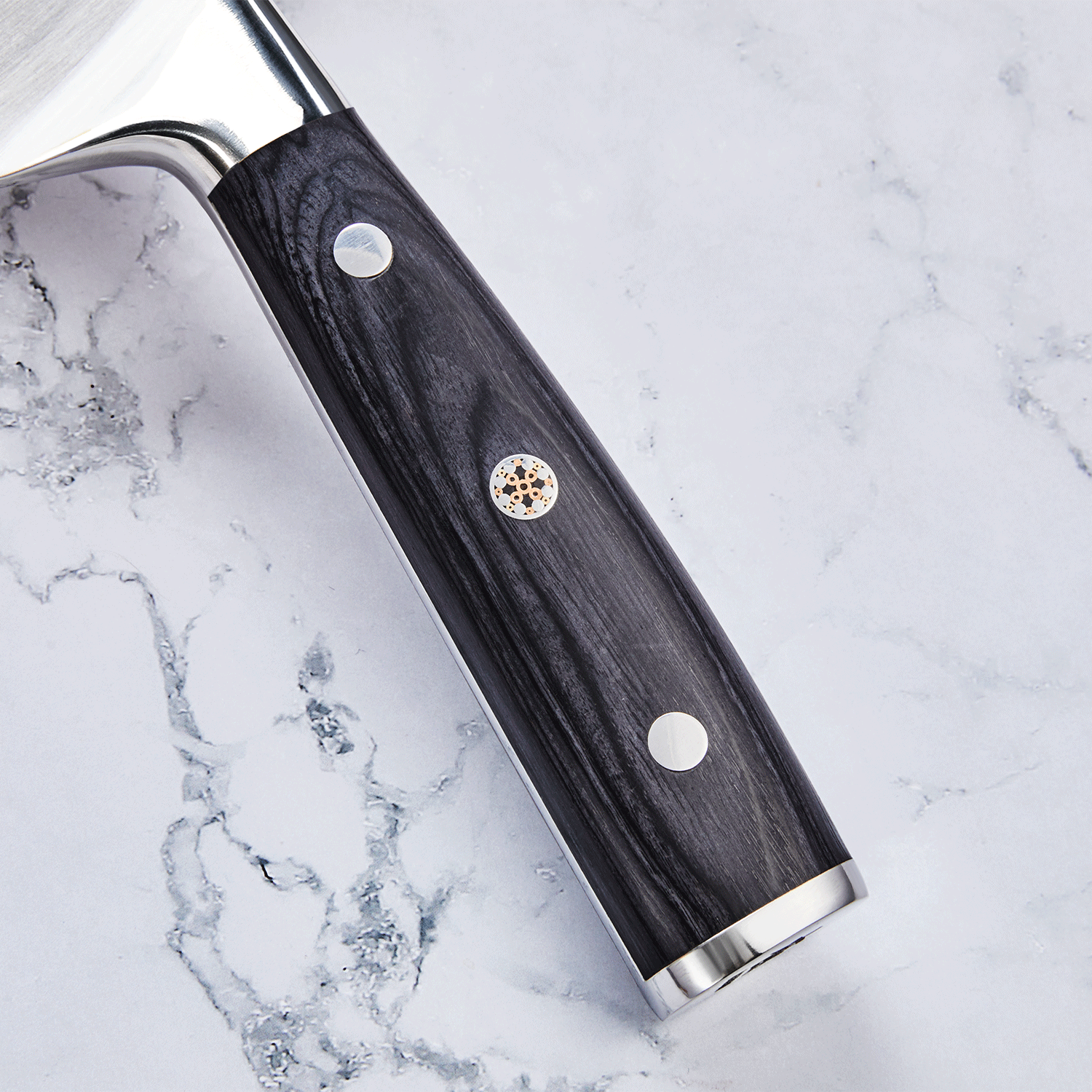 DURABLE HANDLE DESIGN
The meticulously constructed, triple-riveted Pakkawood handle has gone through special treatment, making the knife impervious to heat, cold, and moisture.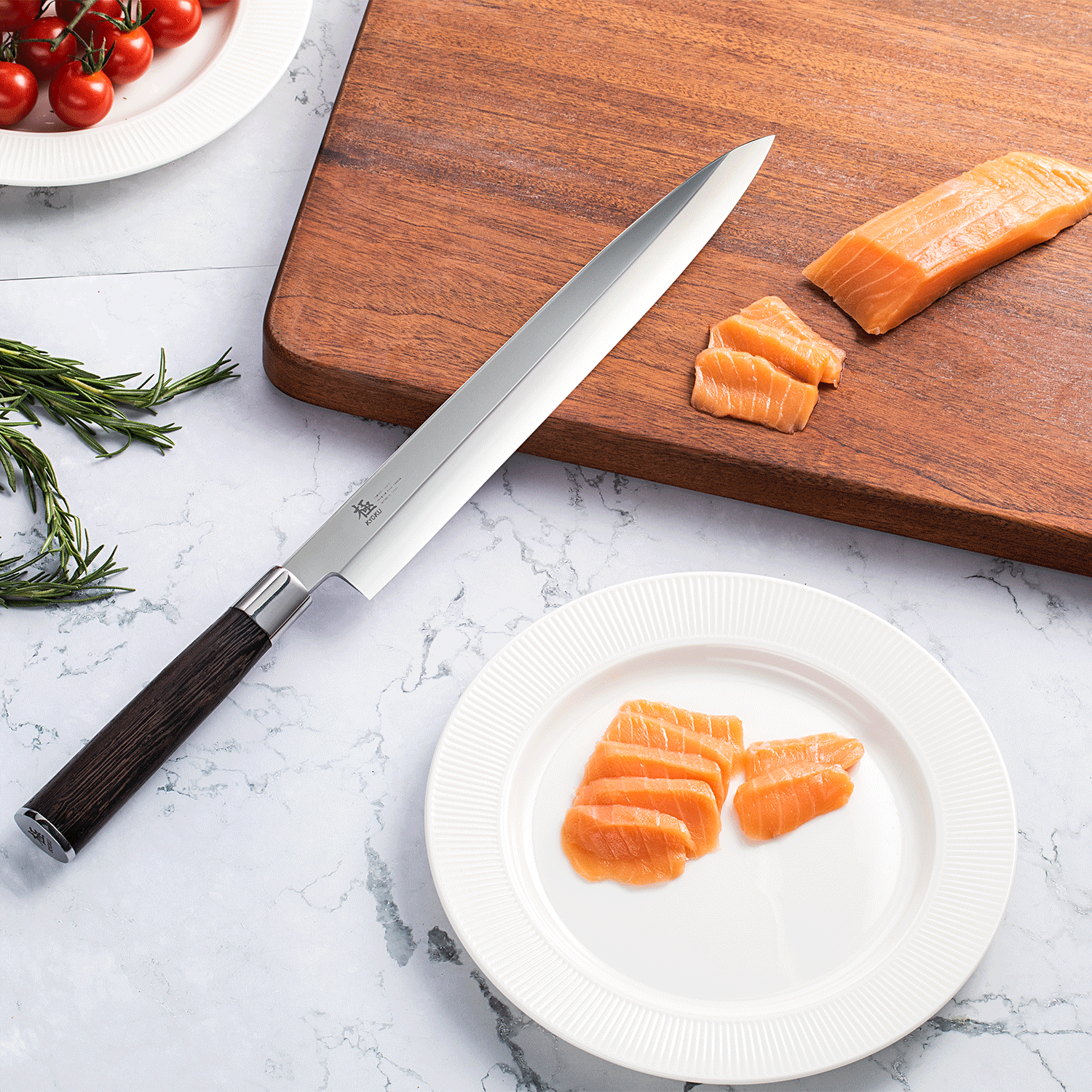 INCREDIBLE SHARPNESS
The knife's ruthlessly sharp edge is handcrafted by seasoned artisans to a mirror polish at 26-30° per side using the traditional 3-step Honbazuke method; treated for incredible hardness, flexibility, and corrosion resistance.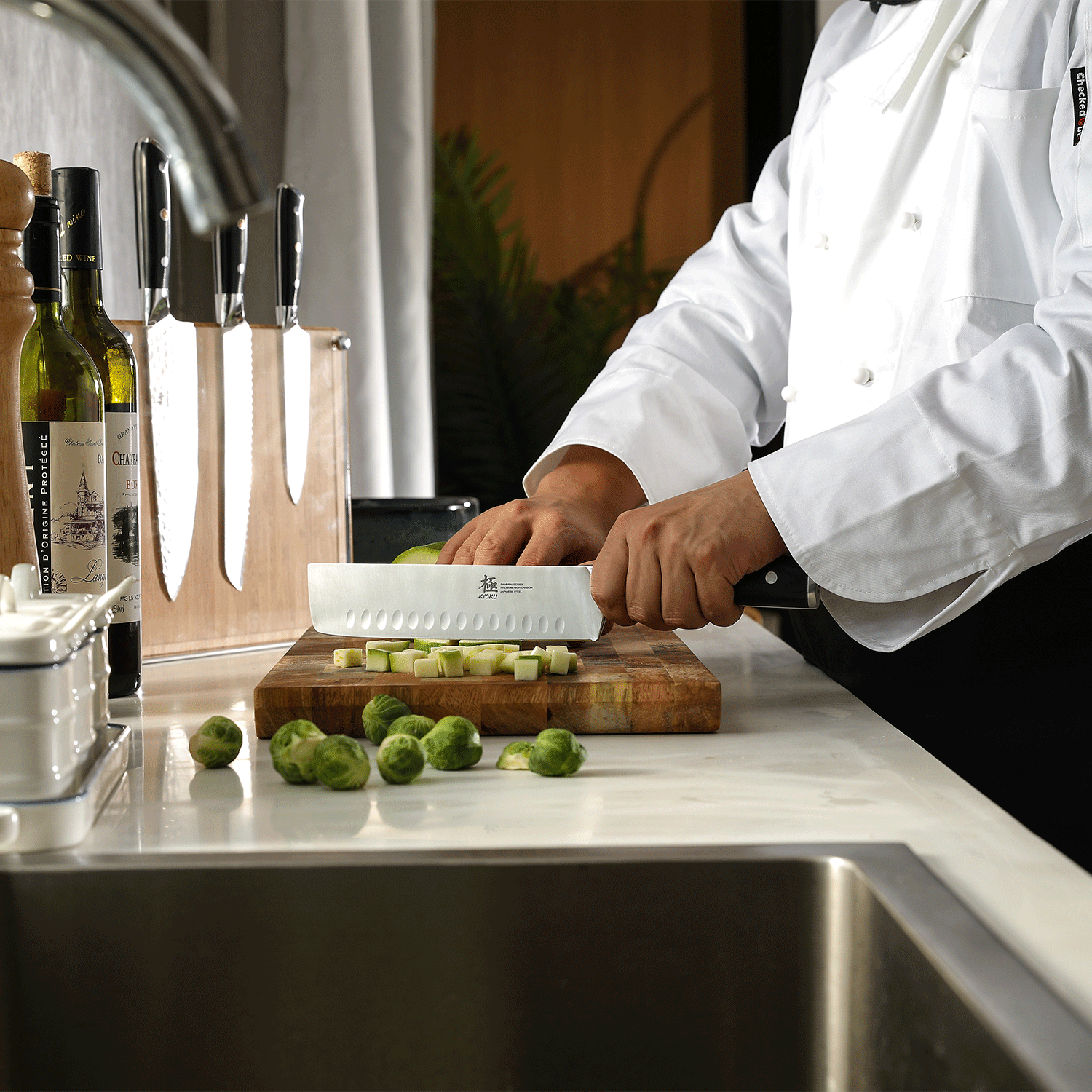 ERGONOMIC & WELL-BALANCED
The straight blade ensures the knife slices through food with ease while alleviating fatigue and finger pains from long periods of slicing or chopping, perfectly blending control and comfort.