7" Cleaver Knives Damascus Steel
---
Extra 20% off on Everything
Features
Find your zen in the kitchen with our 7" Damascus steel Cleaver knives, crafted to elevate your cooking experience. The meticulously forged blades are shaped and weighted to fit naturally in your hand for perfect balance. 
Overall Length: 12.2 ″
Blade Length: 7.0″
Blade Handle: 5.2″
Edge: 13 to 15 degree 
Blade Hardness: 56-58

Weight

:  30.7 oz. (0.9 kg)
Ultra-sharp fiberglass handle
 VG-10 Damascus Stainless Steel
Ergonomic & well-balanced ergonomically design
Package
kyoku provides sheath and case allow you to preserve and store your knife with the cleanliness and care it deserves.
Function of Cleaver Knives
7" Damascus steel cleaver knife is an excellent, medium-duty cleaver knife that is highly versatile and best suited for fish, boneless meats, vegetables, fruits, and leafy greens. The gorgeous herringbone pattern on the base of the tang not only shows off the stunning craftsmanship but also prevents food from sticking to the blade, making it practical for everyday use.
How do I sharpen Damascus steel?
Use the right whetstone: A stone with a grit between 800-2000 is ideal. Avoid coarse stones that can damage the delicate Damascus pattern.
Maintain a constant angle: Keep the blade at a 15-20 degree angle consistently when sharpening to get a fine edge. This may take some practice.
Sharpen gently: Apply light pressure and sharpen in a smooth, circular motion. Let the stone do the work. Aggressive sharpening can ruin the blade.
Follow the layers: Sharpen in the direction of the layers to avoid premature wear and tear. This helps preserve the signature wavy patterns.
Use honing steel: Regular honing with steel realigns the edge between full sharpening sessions. Make sure to match the steel angle.
Avoid grinding: Don't use electric grinders, which can overheat and ruin the temper of Damascus blades. Stick to whetstones.
Clean and dry: Rinse off sharpening residue and dry completely before storage. Preventing corrosion is key.
What are some advantages to a fiberglass handle?
Durable - Withstands impacts and abrasion without cracking. Ideal for tough settings.
Lightweight - Reduces hand fatigue from extended use. Provides better balance.
Non-conductive - Insulates from extreme temps for cooking.
Resists warping - Retains shape and size in all conditions.
Easy to clean - Non-porous surface quickly washes clean.
Variety of colors - Vibrant colors and patterns not easily achieved with natural materials.
Low maintenance - No oiling or sealing required. Just simple cleaning.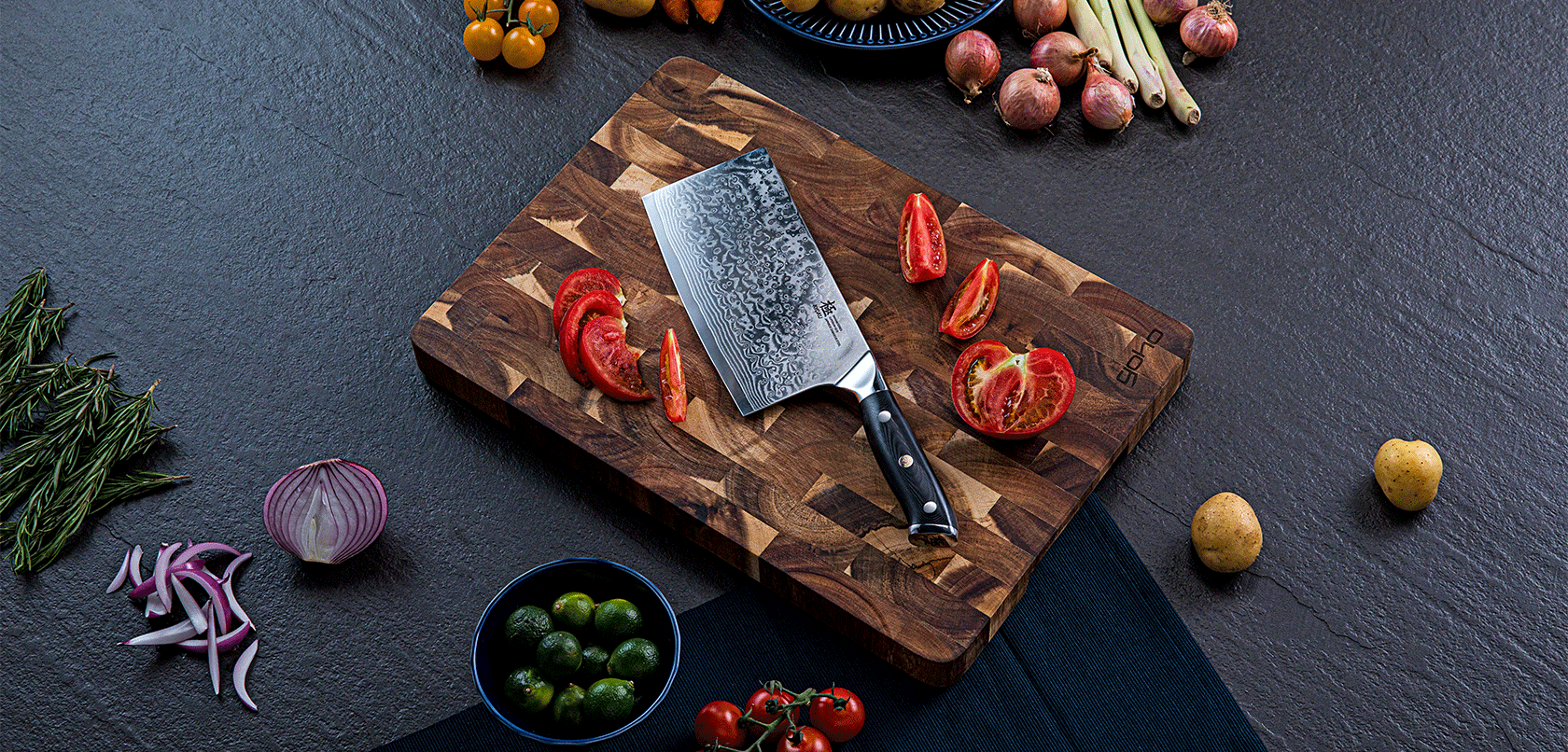 HIGH-PERFORMANCE
STAINLESS DAMASCUS STEEL
Manufactured with ultra-premium 67-layered stainless Damascus steel at HRC 58-60 hardness. The cobalt added steel outperforms AUS-10 steel in durability and is easier to sharpen, since cobalt enhances the other alloying elements.
MORE WITH KYOKU KNIVES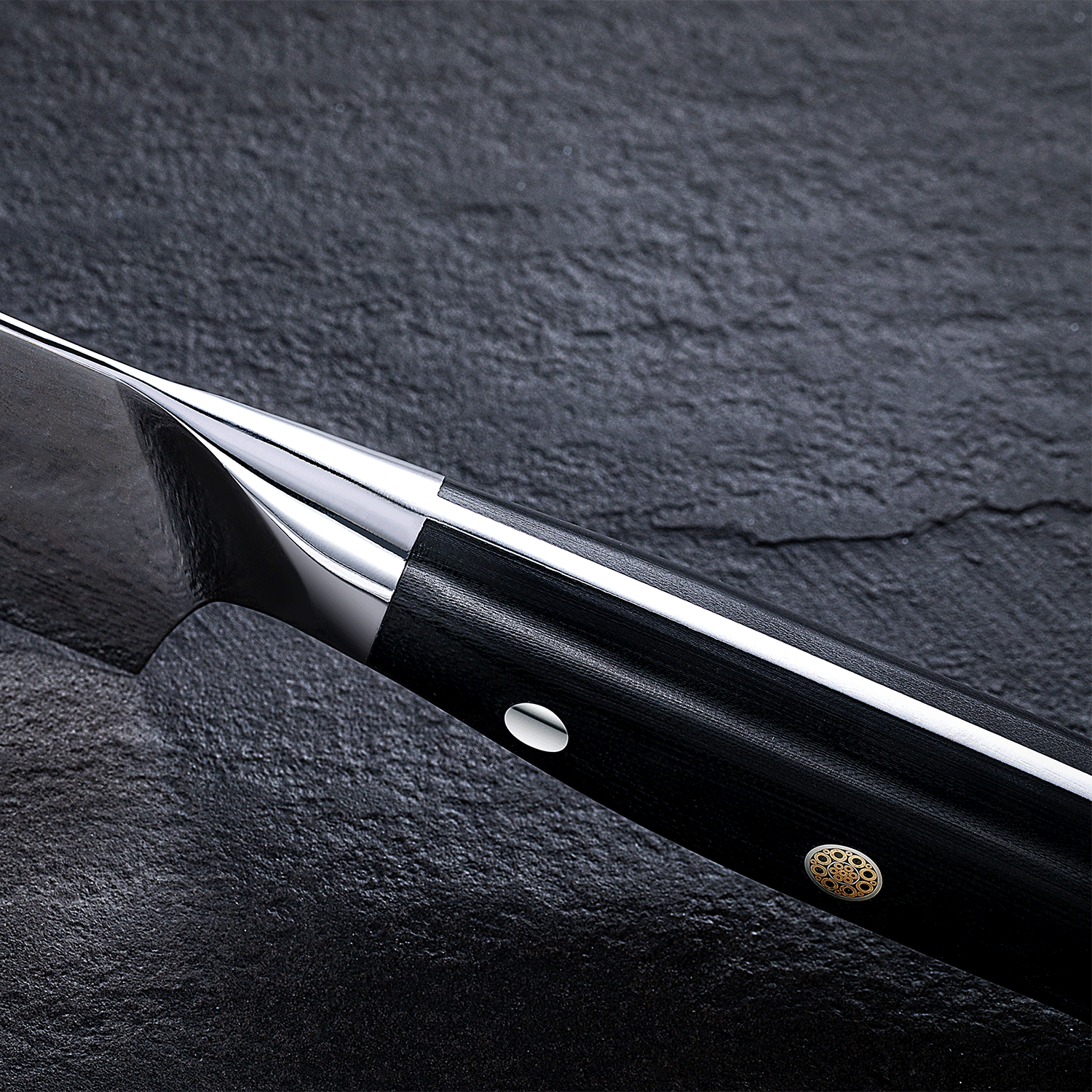 DURABLE HANDLE DESIGN
The meticulously constructed, triple-riveted G10 handle has gone through special treatment, making it extremely impervious to heat, cold, and moisture.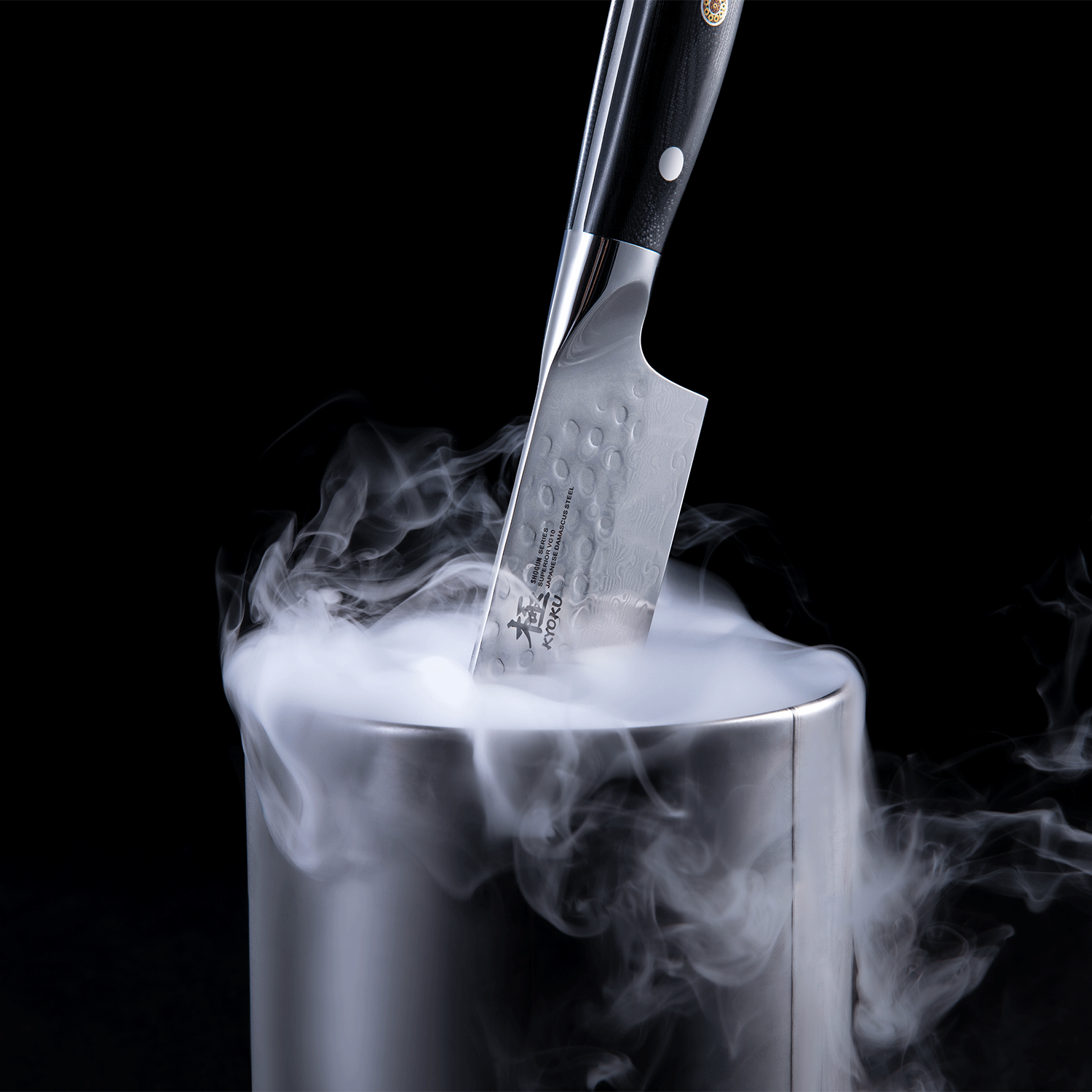 INCREDIBLE SHARPNESS
The ruthlessly sharp edge is handcrafted by seasoned artisans to a mirror polish at 8-12° double sided using the traditional 3-step Honbazuke method; cryogenically treated for incredible hardness, flexibility, and corrosion resistance.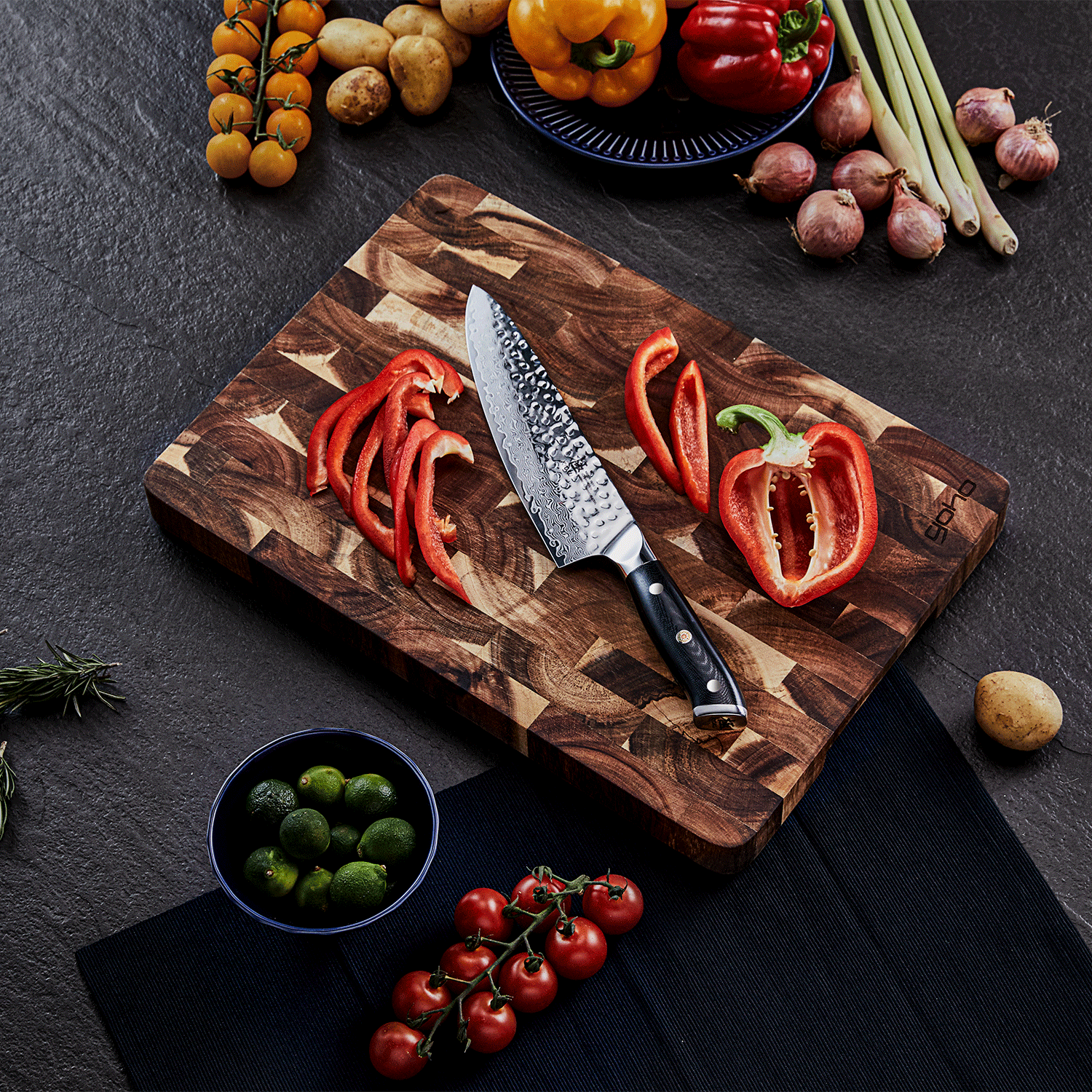 ERGONOMIC & WELL-BALANCED
The extra-wide and slightly curved blade ensures the Damascus cleaver knife slices through food with ease while alleviating fatigue and finger pains from long periods of slicing or chopping, perfectly blending control and comfort.